Life Drawing Milton Keynes
If Thursday, then Life Drawing
Life Drawing Milton Keynes offer you a fantastic opportunity to sharpen your figurative drawing skill. Challenge yourself  to draw the living human body! It doesn't matter if you are an experienced artist or a newcomer, our goal is to provide you with a great opportunity to practice and refine your drawing skills. There will be classical music and a welcoming atmosphere, to ensure that you to have a relaxed, untutored friendly drawing experience; and most importantly you have fun! We aim to bring a broad variety of models to your study.
When?
Usually Thursday evenings. We follow the school terms and it's worth it to check our schedule because we have long poses on some Sundays.
Where?
It is located in Milton Keynes. The Theater room of Arts Central MK – provides a home to the life drawing sessions. Parking is free after 18:00 o'clock.
Norfolk House East, 106-108 Saxon Gate West Arts Central (3rd Floor), Milton Keynes MK9 2DN
What do you need to bring with You?
We provide all of the basic stuff that you would need for the drawing session: paper, easel, chair, drawing board, pencil, charcoal. SO, if you just turn up, you will still would be able to draw. Of course, if you wish to bring your own easel and favourite media (e.g. oils, acrylics, or watercolours) you are free to do so.
Do you need to sign up?
No, you don't need to sing up. If you let us know you will come next week it will be much appreciated, but Life Drawing MK works on a turn up basis.
How much does it cost?
One session is £10 and if you book for five, then it's £45.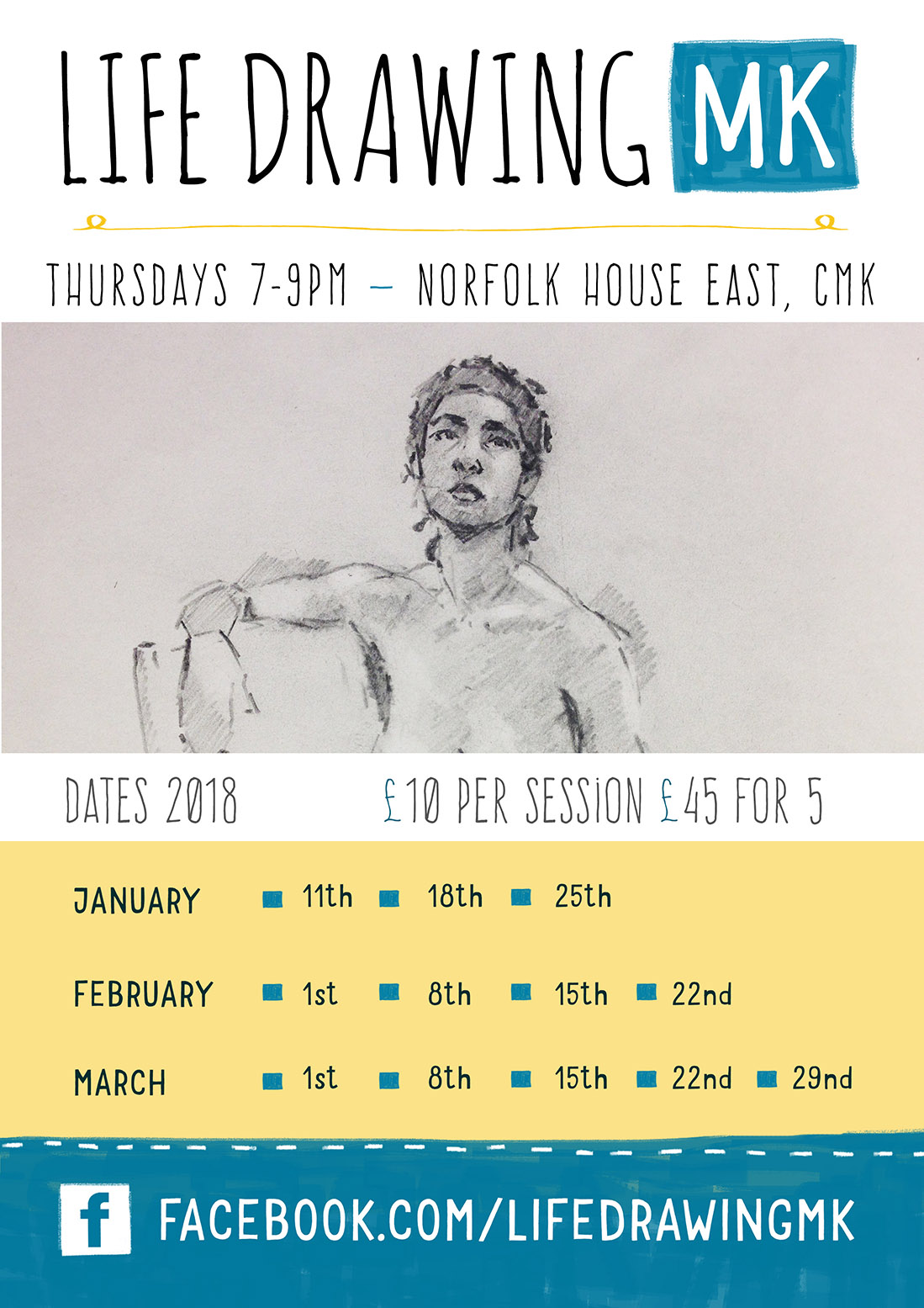 Life Drawing Milton Keynes
Tags

:

life drawing, human body, model drawing, artist training, study, figurative drawing, posing, Milton Keynes, life drawing Milton Keynes, anatomy practice, drawing session, learning, drawing, painting,
Life drawing MK is a nonjudgemental environment. If you feel that you don't want to show your artwork that is fine. All levels are welcome, and everyone knows it is a journey, to improve your skills. It will take time, but if you are patient, it will surely come. Accept where you are and keep drawing. With continuous practice, solid motivation and relentless learning, the results will 100% show up. If you need, you can ask for help; although the sessions are untutored.
If we succeeded in teasing your interest or poking the artist in you, please join us for Life Drawing MK!
If you wish to contact Us please send us an email here!
What are the benefits of Life Drawing?
Study the human body in its natural state / no clothing.
Study different body types, different ages, different genders.
Focus and draw from a living model.
Improve your life drawing skill.
Study human anatomy.
Meet other likeminded, amazing people and artists.
Experiment with different media – charcoal, pastel, watercolour, oil or anything you like.
Have a tea or coffee at break time and relax.
See and learn from other artists.
Have fun!
Good exercise for the hands and shoulders.
This list could go on and on… I hope you are already convinced! 🙂
What is on the Menu

at Life Drawing Milton Keynes?
Starter
5x 2 minutes poses – These poses usually take about 2 minutes.
Soup
2x 15-minute poses – a little longer pose. Here, you see probably one standing and on other seated or reclining pose; less dynamic than the two-minute ones.
After this, we take a break for tea and coffee and a small chat before we return for the…
Main course
50 minute/1 hour pose – Here, you can take out your paints and paintbrushes, or go for a more detailed charcoal drawing. It is possible to change positions, and there is a no limit or rules on how many drawings you can produce. You have the freedom to decide.
Dessert
When all is done and finished and the model gets dressed, we'll go around and admire each other's artwork.